I've been re-reading a gorgeous book I bought a while back, called Orchids on your Budget.

It was written in 1937, when many peoples fortunes had changed dramatically.

The author, Marjorie Hillis, worked for Vogue for twenty years, and she is both scathing and witty in equal measure. She really just knows how to sum up those to whom life is only worth living if you have lots of money.....and in the process, makes the rest of us feel quite worthwhile :)

Here is a quote from Chapter 1 of the book...

"Whatever your lot in life, it's merely a challenge to your resourcefulness, a set of materials with which to work. Maybe you would rather play polo than pingpong, but if you've got an old pingpong set and no ponies, you'll get a lot more fun out of life from being a pingpong champion, than from taking a dispirited whack with a polo mallet every now and then."

With Christmas approaching, and surely some of us doing it tough, it's a worthwhile reminder that it's the spirit with which you attack life and your circumstances, that makes a difference, not money.

What's wrong with a Christmas menu that's ham steaks and pineapple rings, with a cherry in the pineapple rings hole, mashed potato and gravy, a nice crisp salad, and red and green jelly alternated in little glasses for dessert. We had that for many a Christmas when I was a kid, and we loved it!

But it's worth noting that it was always served with the Christmas Carols on the record player, a lace tablecloth, Bonbons and Christmas serviettes on the table, nuts in the shell and a nutcracker with which to crack them (always fighting over the almonds which were our favourites), and a big glass with Fruit Cup cordial and ice cubes.

It's not what was served, but the manner in which it was served that made all the difference. Sure if you just plopped a sad bit of ham steak on a paper plate with some mash and lettuce on the side, it ain't gonna look like much.

But go to a little more effort with the presentation of the food, and the table, and suddenly it's very festive and memorable.

It's so easy to lose our way with TV chefs and the supermarkets telling us all that it's not Christmas without a turkey, or a big fat leg of ham, and all too easy to feel defeated if we can't offer our families and guests that sort of food. I've actually had a series of posts on here on that very topic called War on TV Chefs.

This Christmas, we are forgoing a crazy lunch with three courses.

Some carved leg ham, home made potato salad, a green salad, enormous chunks of watermelon, and a yet to be decided dessert will do just fine.

I'm well aware, that even that would be spectacular by some peoples standards.

But as we did when I was a child, we'll set a beautiful table, have Dean Martin and Bing Crosby crooning carols, and have the nuts in shells and a nutcracker close at hand.

We might upgrade the Fruit Cup cordial to a glass of bubbly too :)

Marjorie Hillis is fond of a beautifully set table as well.

Here's what she says in a later chapter called 'You Have to Eat'...

"One of the prettiest tables we have ever seen, had black and tan checked linen, yellow pottery, amber glassware, yellow marigolds in a black bowl, and salad in a wooden bowl. The pottery, glass and wooden bowl came from a ten cent store (well this is 1937 remember...insert $2 store now), and the marigolds came out of the garden. You couldn't get a smarter background for dinner than a pastel coloured cloth, acquired by dyeing an old discoloured white one, (or an old sheet says me) and some dye, and using it with inexpensive china. A green and white colour scheme, using leaves in a white bowl and cheap white candles makes flowers unnecessary."

I've paraphrased a bit there, but you get the idea.

In that spirit, this year, I'm using a blue and grey tartan with a slim green line through it, sourced at Spotlight for $2 a metre for my Christmas table.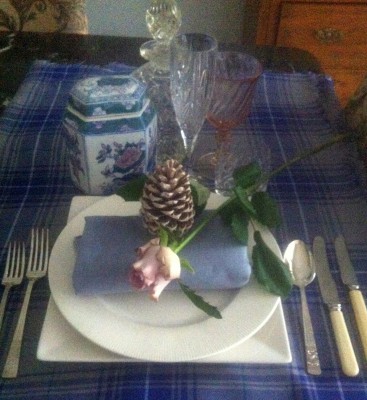 With it will go my Mums cutlery, mismatched glassware, some ginger jars filled with lollies, and some cut glass decanters with battery operated fairy lights woven around them. The pine cones are from the roadside and have been scrubbed and painted with glue and sprinkled with glitter. My lovely friend F, gifted me the glorious roses, and they are the softest colour with a hint of blue in the pink, that will be perfect.

Again, who says it has to be red or green or gold to be festive? Use what you have and make it special.

Yesterday, also in the spirit of using what I had, I made bouquets of foliage for the ladies who volunteer in the Charity shop down the road from me. They cost about $1.50 each and fifteen minutes of my time...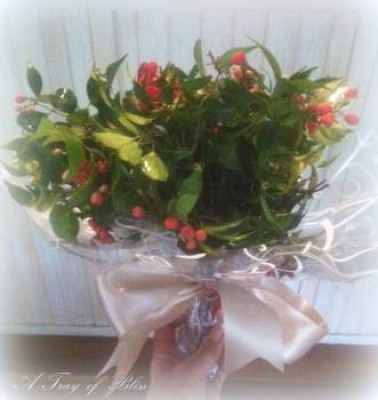 ...and were welcomed with big smiles. If that's not a 'Orchid on your Budget' then I don't know what is!

That 'time' factor is a key thing really. If you're short on cash, then you need to make an 'investment' of a different kind. You need to invest your time to make your life special. Bake, sew, make something. Offer your time as a gift, whether it's through creating, volunteering or visiting. Become the person who makes the most exquisite pate` each Christmas, as I did as a poor student at the age of 19. Be that person who just knows everyone's favourite cookie and bakes them as gifts, presenting them beautifully packaged. Google and Pinterest have made those tasks easy for us all, so no excuses!

I always have just four things on hand for gift wrapping and I'm the gift wrapping queen round here.

Those items are clear cellophane with a multipurpose print on it like white hearts, white butchers paper, a really fat black felt pen, and neutral double faced satin ribbon. With those I can scribe any sentiment I like in big loopy handwriting on the butchers paper, using the cellophane over the butchers paper, or as a separate wrap for things like the bouquet above. I can make rolled flowers with the cello too, or make belly bands where you just wrap a width of contrasting or toning wrap around the centre of your gift, securing it with ribbon.


This 'belly band' was made by splotching crimson and gold paint with a fat paint brush onto blue A4 paper. You don't need much. You mostly just need imagination. And Google and Pinterest don't hurt!


As for festive food, if you only have bits and pieces in your pantry leading up to Christmas, invest time researching a Spanish theme and call it Christmas Tapas. That way you can serve little bits of whatever you like and it's all within the context of that theme. Set the table with red tinsel and mismatched crockery and glasses and drink 'sangria' (that's really just punch made with cordial, soda water and tinned fruit). You could have ham and cheese crepes which cost next to nothing to make, and a bit of salad too, and that would still be special. It's the way that it's served that makes it festive.

Another quote from Marjorie....

"The trick is to have the right attitude, as it is with most things in life. To economize, if you have to economize, with gaiety and an air. It's amazing considering how general the problem is, how few people do this. Anybody can economize drably and untidily, and a disheartening number do. But not the interesting people. They grasp the somewhat obvious fact that any problem so pressing is worth conquering, and with as much zest as possible."

So let's attack a low key, economical Christmas with zest and enthusiasm, and see what we can all come up with.

What are your plans? Do tell.

...Mimi...